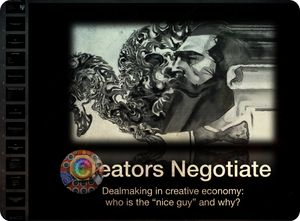 Proudly announcing our brand-new 2021+ workshop dedicated to creative economy actors! 
Amid increasingly unpredictable, technology driven, hyper competitive creative business environment integrative deal-making skills are must-have instrument for any independent professional. This particular course examines key interdisciplinary aspects of successful dealmaking for aspiring creative economy actors with strong emphasis for interpersonal relationships building and its universal ingredients. The specific objectives of this workshop are: 
ASSESS briefly the implications of the most recent global economy factors for the creative economy, independent professionals and communities. 
REVIEW the major unalterable self-promotion practices and their "secret" sauce. 
ANALYSE relationships rationalisation formula, "building blocks" of trust, rapport and subjective sympathy, along with its analogy with universal storytelling and dramaturgy principles. 
IDENTIFY definition of culture and values in international context, its characteristics, models and examples along with their correlation to successful dealmaking, major verbal communication styles across cultures, clear communications criteria and deal analysis tools. 
EXPLAIN key cultural dimensions in the interpersonal and organisational implementation, importance of cross-cultural awareness and negative consequences of extreme stereotyping. 
DESCRIBE analogy in multilateral communications harmonisation with composing, mixing and mastering processes. 
DISCUSS Investment pitching process in correlation with four-elements structure of story, analogy with pitch in music and how-to approach the "right person" at the "right place" strategy. 
EXAMINE universal laws of argumentation, based on the vibrational pyramid principle. 
PROVIDE general overview of leadership theories, managerial styles and organisational cultures with emphasis towards Z-type managerial type and motivational leadership style.

The ultimate GOALS of the workshop are: 
Inspire to identify personal communication and leadership styles, principles, cultural orientation, professional mission and best personal business strategy in order to make one's best deals possible. 
PREREQUISITE: 
Live workshop is bundled with 2+ hours of "CREATORS NEGOTIATE" BOARD GAME sessions.